I don't have nothing much to say as the calendar switches to year 2011. However thinking back I had quite an enjoyable moment during the final weeks of 2010 which saw me going out as frequent as possible and coincidentally there are few December-born babies who need to be celebrated as well. I had much free time hence I went out QUITE a lot (well thanks partly thanks to the current not-so-demanding Surgery posting). Eating out and chatting with good friends is simply joy joy and fun fun... So much so that I have to publish the pics on the blog for all to see... (and prepare yourself for some food porn as well)...
First occasion - a colleague's birthday dinner at
Meatworks
( opposite Cold Storage) in
Solaris Mont Kiara
. We went there straight after work in a convoy. Funny thing was we wanted to try a new place and as everybody got sick of going to One Utama (the nearest mall from our hospital), I suggested Solaris Mont Kiara and had to take the lead to that place. It was roughly a blind journey as I was only partially sure of its location and having no GPS to guide me I had to trust a friend who has just been there once to 'co-pilot' our journey...
A night of laughter and teasing each other basically....
Another birthday dinner treat to close friend Arman / Kotok at some Italian restaurant next to Starbucks Suria KLCC (apologies as I'm really shit when it comes to recalling restaurant names, perhaps you know the place better)...
This calamari salad is simple but good, and light to the stomach
It's funny how my bracelet is almost identical with the strands of vegetable pasta above..
And it was a total awkward moment to see that my 'picnic mat' gingham shirt is ALMOST similar to their waiters!
We both turned 25 in 2010 and are friends since high school I tells ya! Most people know him as the buyer for the multi-label store /cafe
MUSA
. The dinner also included a self-reflecting chat with another high school friend who just migrated back from Chicago...
Finally the so-called 'Christmas' dinner that I was invited to at MUSA cafe. Just a small gathering of close friends/acquaintances of the owner Nazreem. The meal consisted of salad + shrimps as appetizer, some roast chicken as its main course and eggnog as desert. It was my first time trying the eggnog ( is it essentially egg with extra vanilla essence to mask the putrid taste of raw egg 'cos that's what it seemed to me..).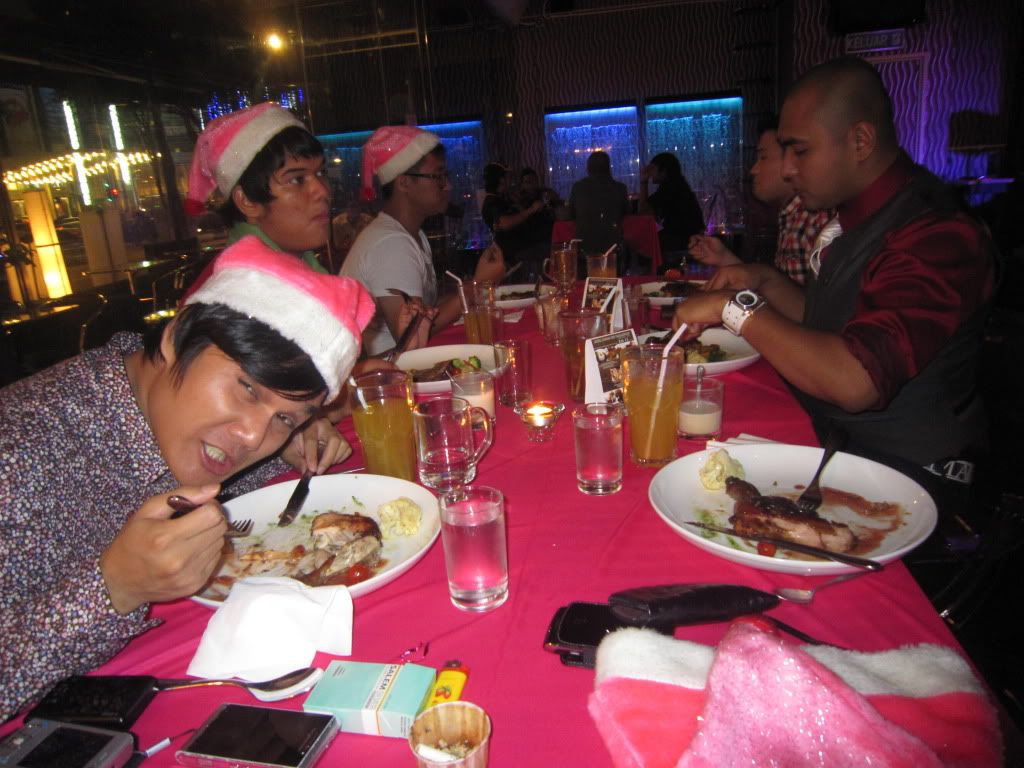 Most of the attendees were clad in red. There was also a free bring-along -your-minus-ones karaoke session...
That night the dress code was 'anything red' so naturally the only decent red item in my wardrobe is the oftly-used red blazer from Zara. And as I mentioned in the
previous post
I did use the occasion to debut the
Dude and the Duchess
shirt, and to add the 'festive' mood I cinched my waste with the golden sequined belt (acquired at RM5 from
Fourskin
but looks like it cost much more than that).
Borderline tacky but appropriate for the occasion, I think.
Also a new purchase is this checked laptop case of mixed wool /polyester fabric from
Benetton
. The bag is a breath of change (in terms of more 'masculine-looking' bag) in addition to my current collection of clutches/man-bags or whatever you want to call them...
I have nothing much to say regarding new year, unlike every body else with their style resolutions / 2010 rewinds of memorable moments. Personally I just hope that I can experiment style as liberal as possible and am really grateful to God that I am still able to afford things that I want (or at least ogle from afar on the Net).
This may be a little bit way too late but may you have a great and fashionable New Year!