This entry might be ridiculously long overdue and I'd like to apologise beforehand for those who happened to read my
tweet
eons ago about how I'd blog this as soon as I came back to my hotel in Paris but never actually saw my post coming up until now. Alas this is the n-th time I'd like to shove the blame against the good old Mr Procrastinator...
However I must digress...
As you might have known I was lucky enough to replace
Arman
to see
Comme des Garcons
womenswear showroom presentation as he had another appointment. The invitation card says the show starts at 10am sharp! I felt that I've been fooled by my own naivety when I doubted that the show will start on time, just like other typical fashion shows. Boy was I wrong. Everyone was there even before 1000H. I thought that this is definitely the quintessential punctuality amongst the Japanese. It is in fact in contrast to most of the fashion houses which really open their shows later than the time they mention in the invitation cards.
The crowd which comprises of faithful CdG devotees and buyers alike (you could probably have guessed from their attire which one is which)
Luckily I arrived 10 minutes earlier prior to the presentation and managed to secure a front row seat. Well, even though this is merely a showroom presentation but nevertheless I'd like to see the clothes up-close, and furthermore this is my first time seeing a proper 'runway' show, so all the more reason to grab the seat with the probably best view of all...
Casual looking capes in all sizes and silhouettes.
To my surprise the show commenced eerily silently when the models walked in unannounced. The noisy room where the attendees had friendly chats with each other previously (but I didn't and awkwardly sat in between 'real' fashion people, just keeping mum and did not know how to blend in with my feeble attempt trying to look so CdG and whatnot) abruptly turned quiet when the lithe models walked in. The only noise in the room was the clicking sound of cameras and the occasional gasps of amazement....
Everything looks so painfully elegant (in a CdG kind of way of course) - the deconstructed garments looks much more beautiful closer up. These photos taken from my Blackberry obviously don't make any justice over the fact that every little detail on the clothes are very impeccably done.
Unlike big flashy fashion shows where the designers try to be as theatrical as possible or play the hippest music loudly to entertain the audience, the silence of this particular show actually brought benefit in this case where everyone could hear the swishing sounds of the fabrics, especially the iconic drop crotch trousers....
Every little detail and deconstruction plays a role in making each garment unique - a fact that many fashion outsiders (and even me) frequently misunderstand.
A boyish look with this chambray shirt and loose shorts with lace-ups. Overly done but still has its charm I think.
This outfit below reminds me of a schoolgirl in a pinafore dress...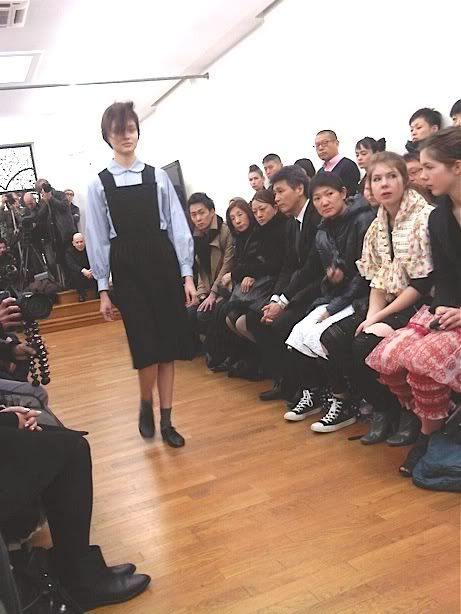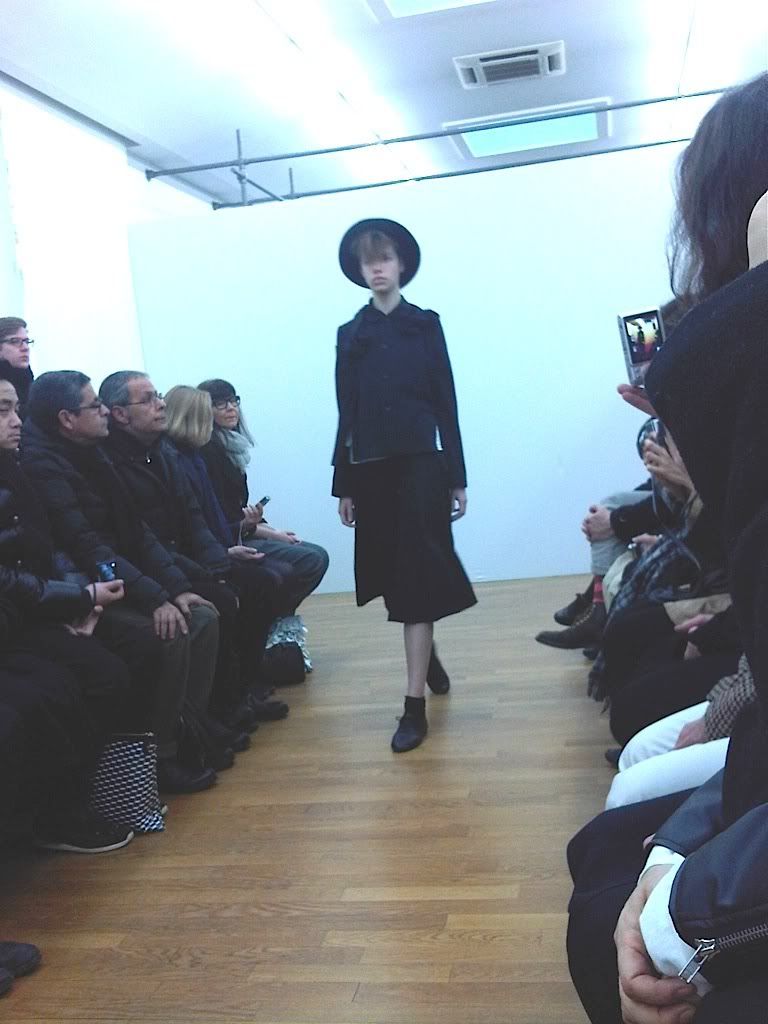 Floral motifs did not escape this collection either...
The attendees also showed up in their best unconventional outfits, best to go with CdG's arty feel. I especially adore this girl's pants which somehow look like long bloomers with a beautiful print!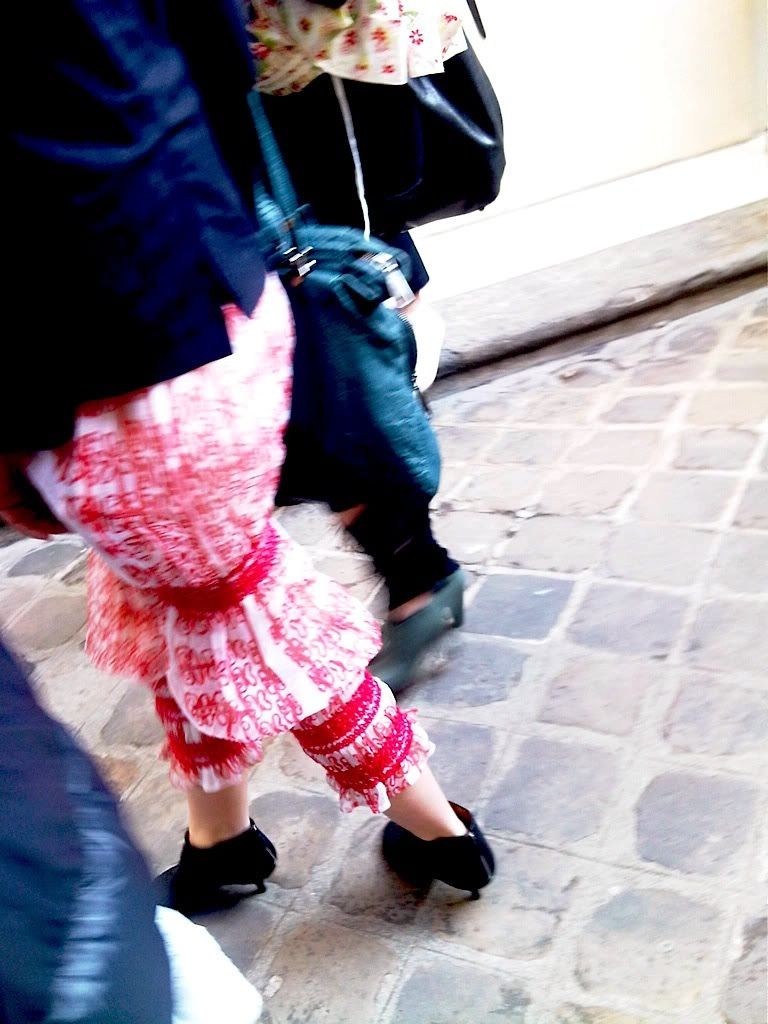 I'll show you what I mean by a feeble attempt at trying to blend in with the devoted CdG followers in the next post....