The shoe business is getting crazier and crazier what with Christian Louboutin vs YSL red soles
trademark litigation
(I doubt the importance of trademarks in petty and frivolous issues like soles). At the end of the day we all just need a good and comfortable pair of shoes to dance in... Well, that is the business of fashion for you.
But on a brighter note there is a cheery news that might excite men's footwear lovers out there: a) Prada is releasing their popular brogues/espadrilles combo this fall, b) Mr Hare is having a collabo with Topman...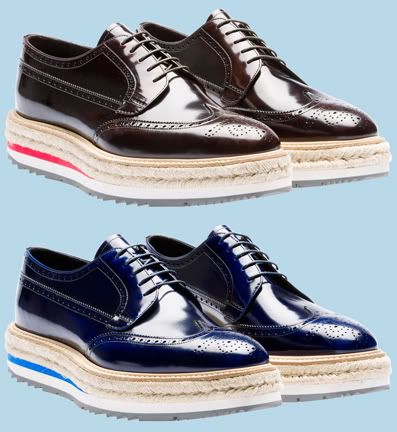 For a shoe fanatic like me it is a rather joyous news to hear that the company is extending the famed part espadrille-soled / part rubber-soled brogues in the form of brown or dark blue polished leather this autumn. This time around the soles are much higher and in fact imitate the height of the brogues from SS11 runway (they disappointingly abandoned the height and on the contrary had much thinner soles for production last season). This is great news especially for a vertically-challenged me. But then again I bought the
ladies' version last time
(obviously because of the lower price range, the additional height and more importantly they fit me better). Let's just hope that this fall their e-store would release my size in mens version....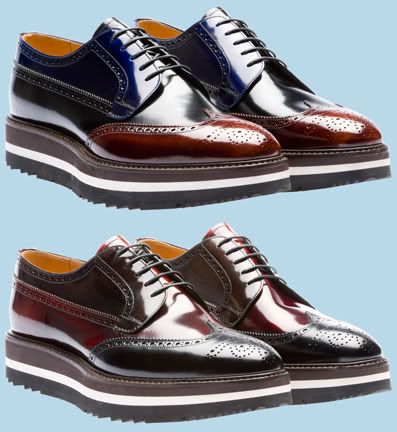 The fashion powerhouse is also introducing a slightly warped version of the brogues with full rubber soles (a plus for those who don't like their espadrille fibers to get ruined from over-wearing). Both variations retail at EUR580 a pop so better save your money starting from now on....
------------------------------------------------------------------------------------------------------------------------------------
Next on the line is AAA Topman collaboration with Mr Hare, the burgeoning English shoe-maker whose name is starting to spread worldwide, thanks to his enviable reputation of crafting near-perfect shoes. His main line are not cheap at all, retailing at around GBP300 and above. Fret not my dear budget-conscious friends, for shoes from this collaboration will range at a more affordable GBP80 -100 range. Mr Hare's attention for details which makes his shoes so famous are reported to be preserved in this collaboration line...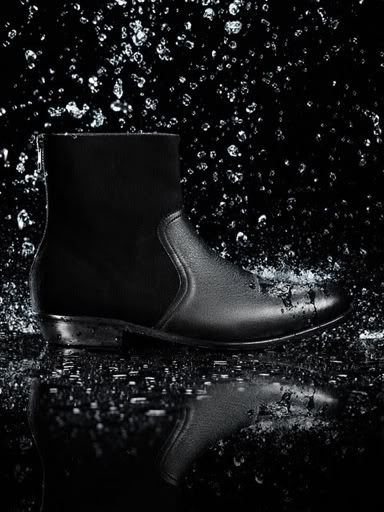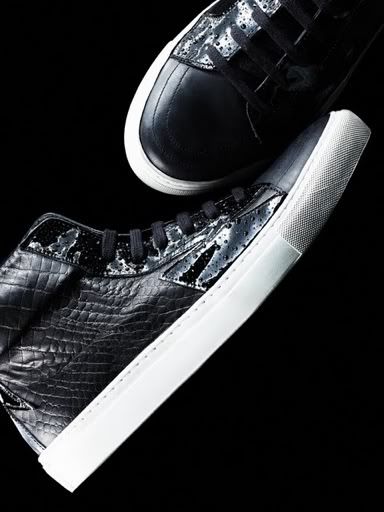 The collection consists of shoes, boots and high-top sneakers. They will be launched in two parts - one at the end of August and and the other at the end of October this year, and will be also available online...
I am falling in love with the cleaner half patent all-black lace-ups, well, because they're simply so simple!