You can consider that I'm a relatively big fan of
Star Wars
, ever since the prequel episodes were released - I was still in Form Three when
Episode One: The Phantom Menace
was in the cinemas. I even collected the Episode One Pepsi posters! Now you know such nerdiness actually existed at some point of my life. Cue
Sheldon Cooper's "BAZINGA!"
remarks.
A collage of Star Wars + fashion forrays. Clockwise from top left: Commes des Garcons 2012; Mary Kate and Ashley Olsen for Stylemint; Illustrations by John Woo: Jar Jar Binks in Maison Martin Margiela, Princess Amidala in Gareth Pugh, Darth Vader in Band of Outsiders, Scout Trooper in Viktor & Rolf; Adidas x Star Wars sneakers; Nicolas Ghesquiere and Charlotte Gainsbourg for Harper's Bazaar; Black Milk swimsuits; Thom Browne SS12; Balenciaga SS12.
Image credit: fashionista.com
On the other hand, fashion only pervades me during my blossoming years of young adulthood, not until a FEW years ago. I love it when both of my favorite worlds collide. Although a Star Wars theme in fashion is not something new, it is always comforting to see that the presumably cooler-than-thou fashion realm has at least a tiny bit of fixation on intergalactic battles, Jedis and light sabers.
We all know that the latest addition of Star Wars + fashion is in the form of Nicolas Ghesquiere's
Balenciaga SS12 collection
, notable the oversized visor hat, which oftly reminds people of Darth Vader's helmet.
Image credit: first photo - fashionista.com; last two photos: Coco's Tea Party.


Of course this by no means resemble Balenciaga's out-of-the-
Galactic-Empire
(see what I did here?), Darth Vader imitating, disproportionately long, questionably functional version. But when I saw this visor at
Daiso
, typically worn by middle-aged Korean ladies I saw during my summer trips, I can't help but get excited over the fact this is the cheapest way to emulate the trend. Despite its rather short brim, at RM5 a pop, I'm sure this can be an equally stylish substitute of the real deal. I'm pushing the futuristic look a wee bit further with this lava lamp print shirt by
Christopher Kane Fall 2011
...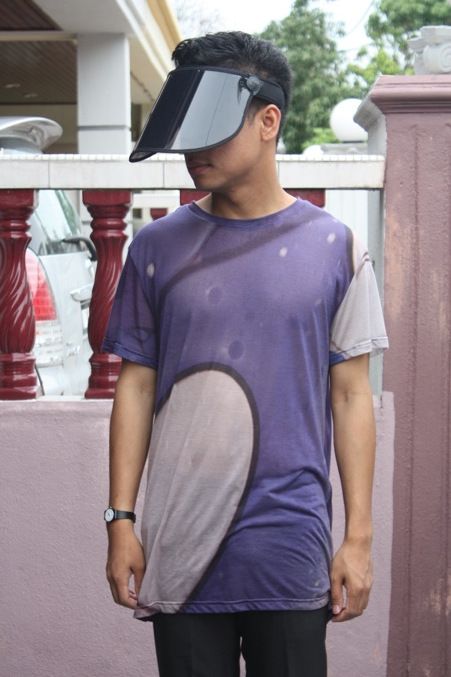 I'm wearing visor hat from Daiso,
Christopher Kane lava lamp print
, Topman skinny trousers,
Marni at H&M sandals