I think most of Kuala Lumpur citizen are well informed regarding the news of H&M's inaugural opening in Lot 10 this September, thanks to the vast online spread. And obviously I'm lagging behind the coverage of its Autumn Winter 2012, which is all about metallics/ maximalism for women and tailored goodness for the men. Nevertheless I'm feeling elated over the opportunity to visit their showroom recently, which certainly gave me the chance to closely inspect the merchandises in person, and in effect, delved in to the details of the tailoring quality and tactilely stimulated by the fabrics. And of course, I get to compare the prices internationally.
In view of the possible lengthy commentary and image-laden entry (quite a rare occasion at Dunia Fashyon these days), I think it will be wise if I divided this post into two halves - both menswear and womenswear respectively.
For this coming season menswear at H&M boasts immaculate 60's-inspired slim tailoring with beautiful accents of autumnal colours. I am so delighted seeing rich hues like mustard, wine and bottle green being incorporated into the men's collection. If mixed together the right way anyone can look good dressing in the bleary autumn weather (*cough*, shopping mall, that is). Besides, the combination of sharp tailoring, vivid colours and a variety of fabrics can be such a winning formula for dressing up.

Apart from the key tailored items of the season there is also a more trend-oriented and 'experimental' division in the menswear collection. I saw a sweater and pants with smart usage of pleather panelling, a Marni-esque printed shirt, a Comme-inspired colour-blocked shirt, and, my favourite from this section: a Lurex jumper which reminds me so much of Prada a few seasons back.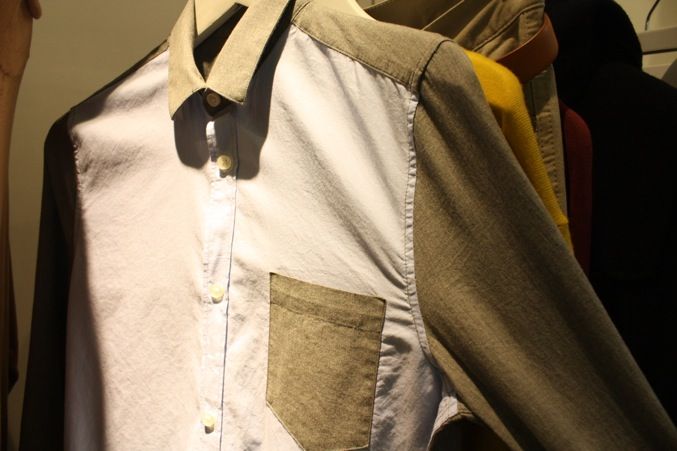 On the other hand their casual line (named L.O.G.G, or Label of Graded Goods) perhaps suits a student in need of a sprucing up of his wardrobe better. The palette of this line is more subdued with checked patterns predominating in the shirt section, with occasional pop of colour in the cable knit sweater and chinos...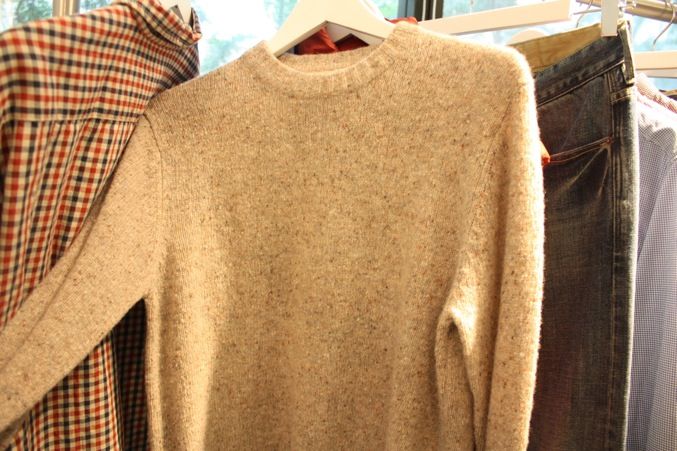 The accessory department is not spared either my friends. Besides footwear comprising of a mix of leather brogues, suede derby shoes in mustard/lime (my feet are begging to be in them!) and other classic shoes like the desert boots, there are leather gloves, coloured socks, bow ties, 60's glasses frames and braces. (But do take note that some of the footwear consist of pigskin lining. If you are like me, carefully inspect your shoes before purchasing lest you want to sell the unworn shoes half-priced) The value-for-money item? A skinny leather belt (not of swine in origin I assure you) at RM 59.90...
I suspect the clothes will be flying off the rails come September, given its interesting design and styling combined with comparatively lower prices than other high street giants. Personally speaking seeing an off-the-rack wool jacket priced at RM199.90 is not a daily phenomenon to me (this is AFTER comparing to Euro and USD pricing handily available in their catalogue). Generally I try not to compare but seeing how Topman and Zara have been marking steep price tags on their merchandise all this while, I think people will flock to H&M to look for an alternative... the quality of clothes of all three labels are not too far off between each other either, based on personal experience.
The pocket-friendly wool jacket. Priced at RM 199.90
I believe that Kuala Lumpur's urban dwellers have been longing to be good in dressing, but there has been a draught of well-designed AND affordable clothes in the city. Just look at the mushrooming of Uniqlo stores all over KL... five branches in the span of less than two years? That indicates that people are hungry for affordable quality clothing (well, for basics at least). H&M will potentially resolve this issue...