It's been quite a while since I've posted something worthwhile, especially reading-wise. As you know I am not a person who reads magazines on a monthly basis, save for a few selected titles like
Monocle
and back issues of the wonderful British publications like
10 Magazine
and
Fantastic Man.
It has been quite a struggle to search for quality local publications ever since.
But it seems that Malaysia has seen quite a few buds of talented fashion journalism and therefore, publication.
Hanger
magazine is one of the rare breeds that lights up the dull Malaysian fashion journalism scene.
I would say that the content veers more towards street fashion based on its first few editions. However its Spring Summer 12 issue seems to expand topic-wise and therefore covering different niches like emerging international designers (most of which are new to my knowledge, quite naturally), regional street fashion photography and a good set of editorials. There is also a sporadic spread of interviews which give a more in-depth behind-the-scene coverage on a new product or label...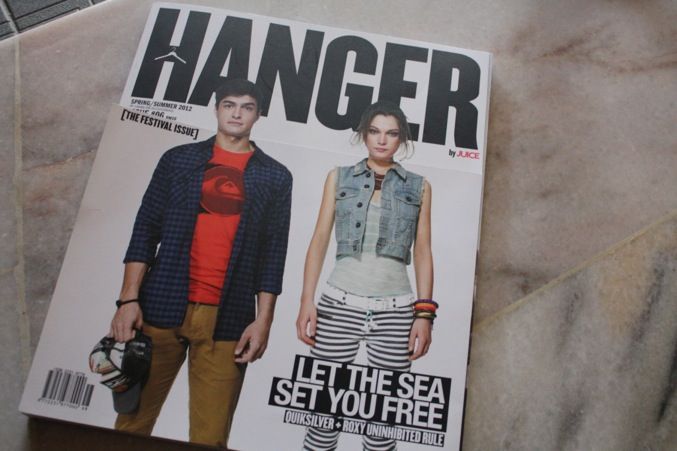 Street fashion photography which transcends geographic and cultural boundaries...
It just makes me smile when is see witty editorials like this Victorinox Swiss Army x Hanger, where models reinterpret the album covers of iconic singers like Adele, Michael Jackson and Lady Gaga...
The spread of emerging talents in Hanger is simply a sight for sore eyes. A few menswear designers I've heard of are featured as well (
Mark McNairy
,
Satyen Kumar
,
Henrik Vibskov
and the likes). And also there's a feature of our very own Paris-based Malaysian talented designer Jonathan Liang with his label
Nue
...
At RM10 a pop, Hanger Magazine encompasses more than what it is worth. I definitely suggest you to get a copy...