Probably you would have known from my twitter (just at the right side of the panel, feel free to follow me) that currently I'm in Paris, joining Arman Shahril for Paris Fashion Week! Don't be too excited just yet, because I did not get the invites to the shows and this last minute trip is merely an escape from work and hardly a fashion-orientated one...
The view of rue St Antoine from our hotel window
It has been quite a while since my last visit (post about previous trip to Paris
here
). And when I just arrived yesterday and boy, was I exhausted! Even though the weather here is not as cold as I expected (8 degree Celsius upon our arrival), I'm still shivering, thanks to my not-so-appropriate-for-winter attire - my top half is screaming spring, but luckily the bottom half of the outfits is rather warm so that I did not freeze my ass off...
Arman had to rush for the
Nina Ricci
show at the majestic
place de la Concorde
within 2 hours of arrival from the airport, so you could imagine how hectic his schedule is going to be. The invitation card is rather an elegant one - it was a golden mirror with the wording etched underneath it. I especially love the rather romantic handwriting on the envelope, on the mirror and also on the event card. All of them were written by the same person I suppose...
We did change before going out, and bearing in mind that the show starts at 8 pm, a little layering up is deemed necessary. The
home-knit scarf by Malchik
back in the ol' Russian days yet again proved its usefulness against the icy cold gushes of the wind. And here I am again on an outfit repeat, but this time around almost two years has passed since I wore
this jacket
and the
woolen German army pants
...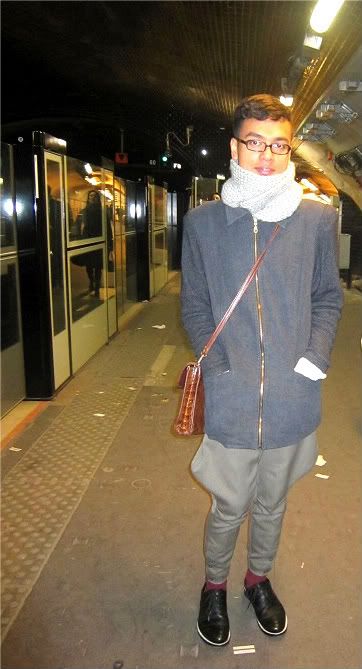 Wearing thrifted coat, army pants from Amsterdam, Giordano striped tee,handmade knit scarf, vintage handbag, Jil Sander shoes, Uniqlo socks.
It was my another feeble attempt to channel a nonchalant Parisian quirkiness but I utterly failed because:
a) there is no Parisian midget roaming around, or if there was one he would belong in the circus
b) everyone was gawking at me in the Metro, and I'm not even sure whether that was a look of amazement or simply of disgust.
c) no one would pair a long coat with a pair of thigh-magnifying German army pant!
As I was simply tagging along and do not contribute anything to the fashion week society (haha), I walked to
Avenue des Champs-Élysées
while I was killing time waiting for Arman, and managed to enter a couple of arcades. I love the window displays of all things current, like these Celine shoes: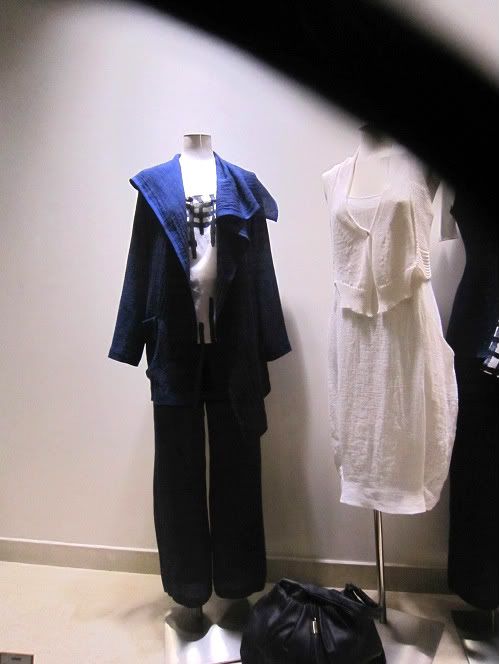 My hands are jittery trying to resist of getting a hold on the soft, wide collar of this navy blue coat by Infinity...
Anyhow, fashion week aside, I think it is still a good opportunity to explore Paris by walking past the many arrondissements and perhaps to hunt for dépôt-vente (consignment stores) and vintage shops, or to visit again the fashion mall powerhouse like
Galeries Lafayette
and such....