It's hard not to notice a bright entrance like this one!

Shopping in Singapore somehow is more enjoyable and somewhat fulfilling for fashion enthusiasts like me in comparison to KL. Not to belittle my own country but after being at the famous Orchard Road which houses tons of brands not available in KL itself I almost made a pact not to shop in KL anymore ( okay that pact will only materialize if I have a bank account with endless digits in it)

ION Orchard. Okay now we're talking.

The best example is
Club 21
- Lots of cult labels are stocked in the multi-labeled store which is perched quite discreetly in the unassuming Hilton building. Japanese fashion heavy weights like
Yohji,
Jun Takahashi
and the likes are all stocked, despite in a rather limited quantity in the double-floored boutique. European big brands like
Lanvin
,
McQueen
and
Margiela
are there too. Had only they were on sale (which according to my friend are heavily discounted come Xmas Day) i would even consider purchasing something that I'd appreciate wearing for the rest of my mundane
fashion-less life.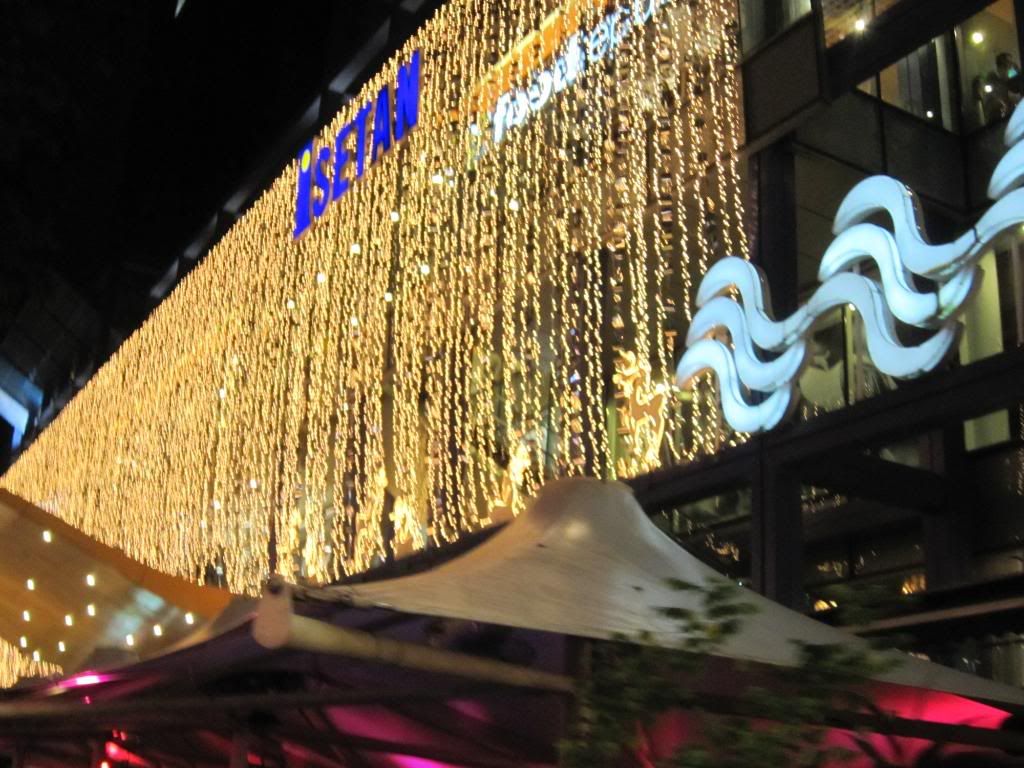 This is not Hilton

Oh, not to forget Hilton itself houses standalone boutiques- say hello to
Dries Van Noten
(who happened to have the most creative window display - a Christmas tree made of colorful light bulbs) and
Balenciaga
- with their key piece this season i.e the draped skirt (I like to call it the diaper effect) on display!
It goes without saying that a substitute for my endless high-fashion crave had to be found on Orchard Road itself. As a pauper I found myself in the middle of Isetan Exhibition Hall avidly studying 50-60% off CK Calvin Klein items before making up my mind...I finally went home with a black nylon bag with an additional compartment a la a newspaper stuck on tothe briefcase( I've seen it before but I can't remember what dandy label the original idea came from...any heads up?)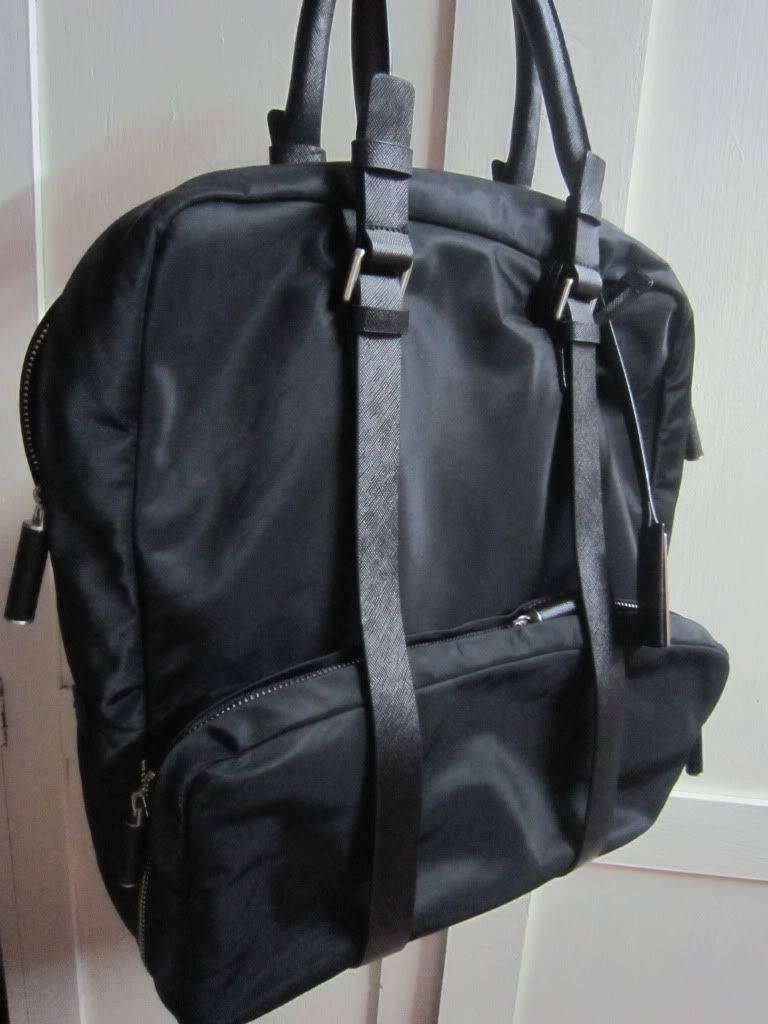 The second item that made the way into my wardrobe is these perforated ladies booties?. Very YSL caged boots
Dinie
said. Yes, indeed.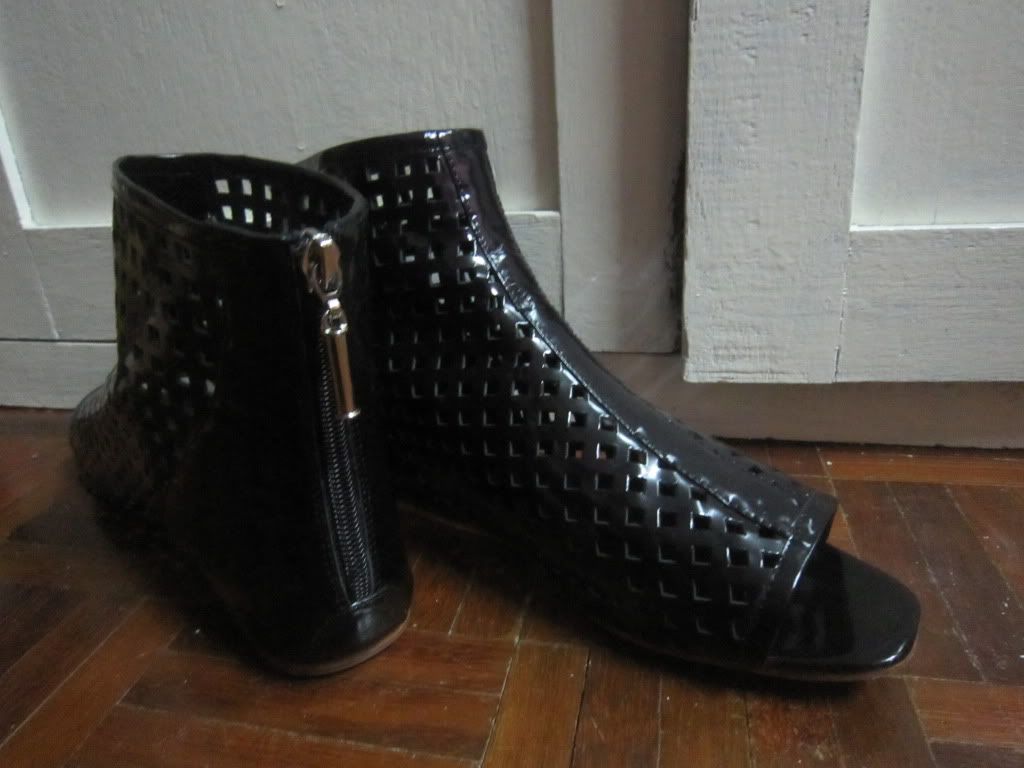 All in all it was rather enjoyable / somewhat fulfilling being able to purchase something similar that I saw in KL last season with a a double price markup. Well at least the booties are 100% leather!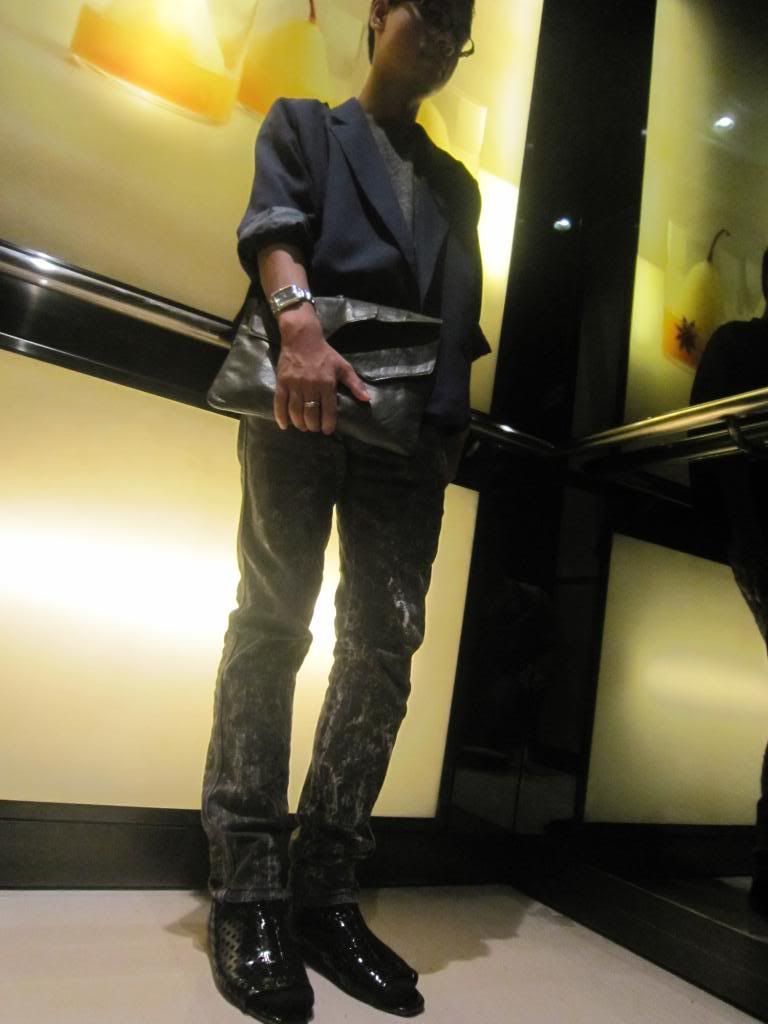 What I wore to
meet Dinie
- a thrifted Tesco blazer with DIY studs on the shoulders, Weekend tee, H&M jeans, newly-bought CK perforated booties. Accessories: eBay vintage clutch and Guess watch