It was long time ago since I dreamt about owning a piece of clothing/accessories from this celebrated fashion house (which is quite evident if you look at the stale 'covetable yet impossible' section at the far down right corner of this page). But today I am officially not a Lanvin virgin anymoarr (please pronounce 'anymore' like Lady Gaga in Alejandro). I feel so sinful o Lord please forgive me!
I might be sounding over dramatic and might even commit a blasphemy for such a statement. But such is the typical reaction whenever I fail to contain my excitement regarding this new pair of Lanvin clogs that I recently acquired from Lanvin Hilton Singapore branch.
The shape, texture and color of these shoes is the particular reason I chose to purchase them, out of several shoe models which are rather classic and easily forgotten. (Well, not to mention about the blessing of a hefty discount - 60% off retail price! The bargain hunter in me was screaming when I saw the price tag)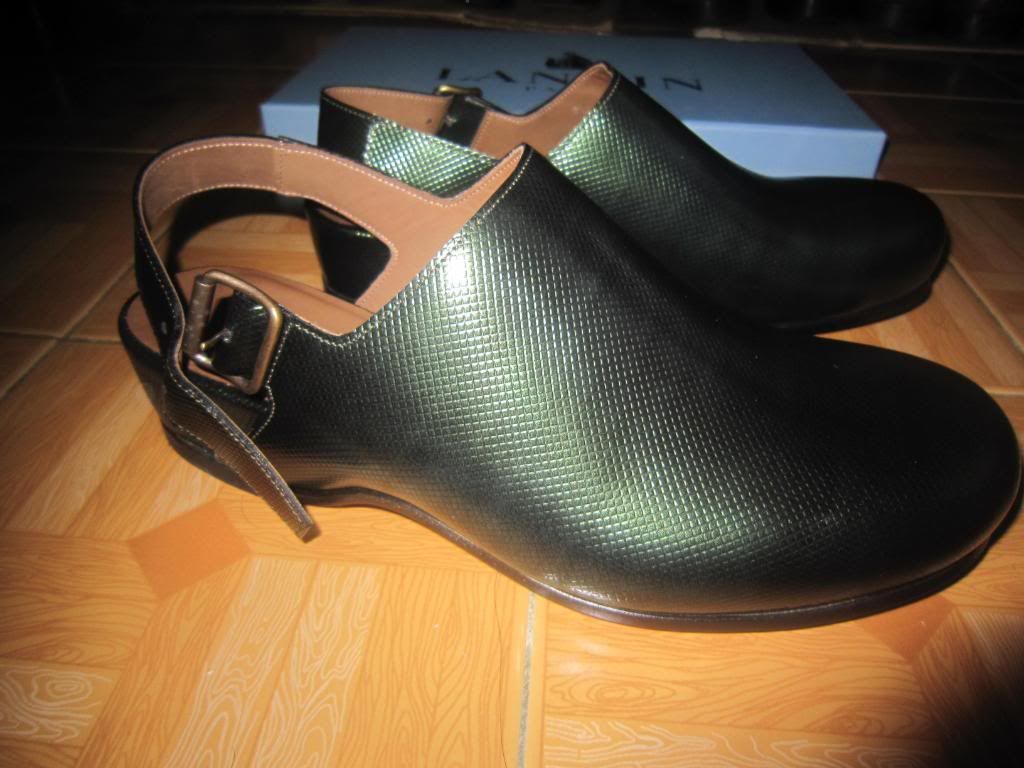 The thought of it might insinuate a perverted taste of a shoe fanatic but it felt so good upon caressing the leather upper of the clogs. The calfskin is enveloped in the beautiful shiny metallic green finish that one could easily mistake as a fly's back, or rather a dragon fly...
The sole is soft and it is padded with a sturdy plastic-like material which is also great for shoe fetishists comme moi who would not like their soles getting scratched nor damaged. Comfort-wise the shoes are a winner because nothing could beat a pleasurable feeling when wearing a pair of leather clogs. It seems like there are endless possibilities when it comes to pairing these shoes with other outfits and apparently menswear is slowly picking up the clog trend which has been quite popular the past season in ladies' world...