I used to stray away from vivid colours when I was younger and mindless as the mindset that time was anything brighter than my colour pencils deem tacky, campy and tasteless. Blame it on the peer pressure from spending five years in an all-boys boarding school which made me stick to conformity. Little that I knew that I would soon change my mind on how a man could and should dress.
Image courtesy of thedandyproject.com via Tommy Ton on GQ.com
Now that I have seen a lot of gentlemen out here (over the Net to be more precise) wearing a good splash of colour to spruce up their outfit, it only seems natural that I follow suit. Events like Pitti Uomo and menswear fashion shows is the place of meeting for these new hybrid of masculine men who wear colourful shades effortlessly and proudly flaunt their sartorial identity.
The desire to look more vibrant sartorial-wise is also fueled by current season's menswear powerhouse Jil Sander. Under the creative director Raf Simons this minimalistic-driven label has breathed a lease of new life again on colourful clothing for men. Their SS 2011 collection, as many of you would have known, is very much talked about and has been flying off shelves (of both the real and online ones). Oki-ni, the notable London-based online menswear retailer, for example, has sold out most of Mr Simons' brightly-hued shirts and trousers
in electric blue, magenta and bright green
, among others.
When I say I followed suit, please bear in mind that my attempt is ceaselessly feeble and there is always room for betterment, of course. And taking into account that half of my wardrobe is composed of that of women's, I apologise if that fact does not appeal to you guys who might hope I feature a gent's outfit for once. I'm sure there are gentleman readers who have their own take on colourful outfits done tastefully. So in the spirit of sharing I'll be waiting for your personal colour-injected outfit images. My e-mail is just at the sidebar over the right!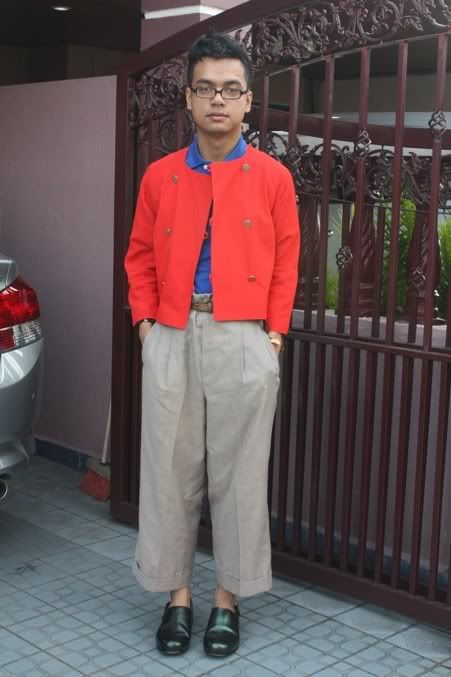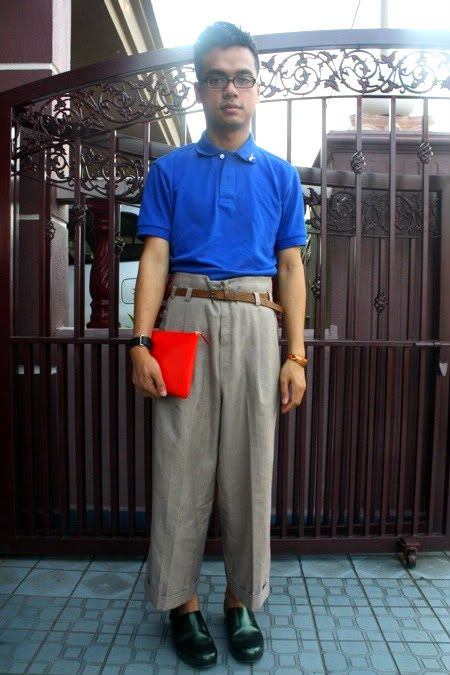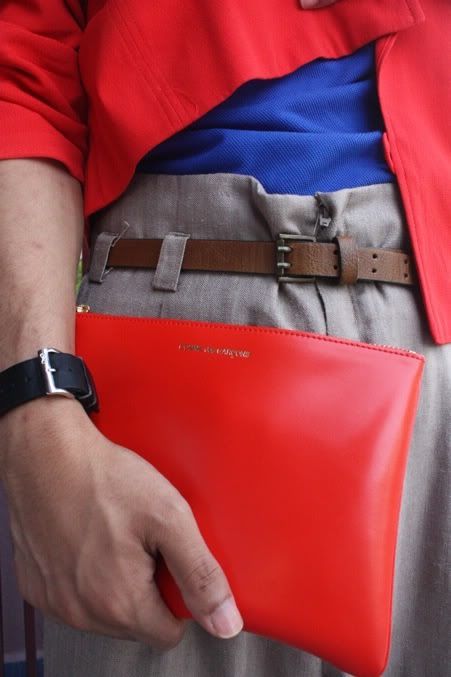 The latest addition to the clutches family is this tangerine orange Comme des Garcons leather clutch from MUSA Bangsar. (surprisingly affordable for such a cult label!).
Worn with Peter Jensen crop blazer, Uniqlo pique tee, thrifted crop pants, Zara skinny belt, Lanvin A/W 2010 clogs.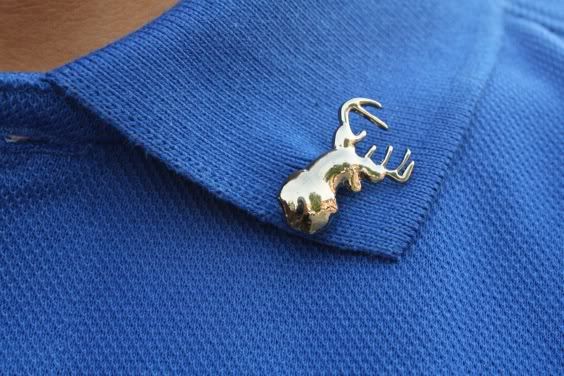 And not forgetting this shiny and equally adorable moose brooch from Topman! The pique weave on this Uniqlo shirt looks more apparent...I'm basically have fallen in love with this Japanese label for its high quality cotton clothing...