Fall 2011/2012 menswear shows have long ended but I'd still like to wax lyrical about them, at least about one of the trends that I think is quite prominent on the runway.
If you have been reading my blog for a while you'd probably known about my biased love towards slouchy pants. (have a look at
my entry about Umit Benan
)
I'm feeling elated over the obvious fact of ubiquitous baggy/ roomy / billowy silhouettes at the shows. There were baggy coats and lots of designers showed soft billowy pants.
This could only mean one thing - it justifies the prediction of how skinny trousers will be replaced by their roomier counterparts (well, not THAT quick, but I can imagine hard core menswear lovers digging the late 80's/early 90's trend soon enough).
Even though a substantial amount of the bottom half of my wardrobe is composed of slim-fitting cuts, I for one still am a firm believer in non-crotch hugging pants (read more
here
).
Not only they are more comfortable (not to mention more flattering, especially on those who are not blessed with chicken legs), these kind of pants are simply fun to watch in motion (cue the swishing sounds of silky billowy fabrics please!)
A handful of designers tried to revive this long-lost silhouette (only very few still used baggy cuts ever since
Dior Homme
's previous creative director
Hedi Slimane's
era of skinny suits in the 2000's).
But no one can do it better than the master of soft billowy fabrics,
Yohji Yamamoto
himself! (ehemm, I expect people to humbly bow at the presence of his name in this blog).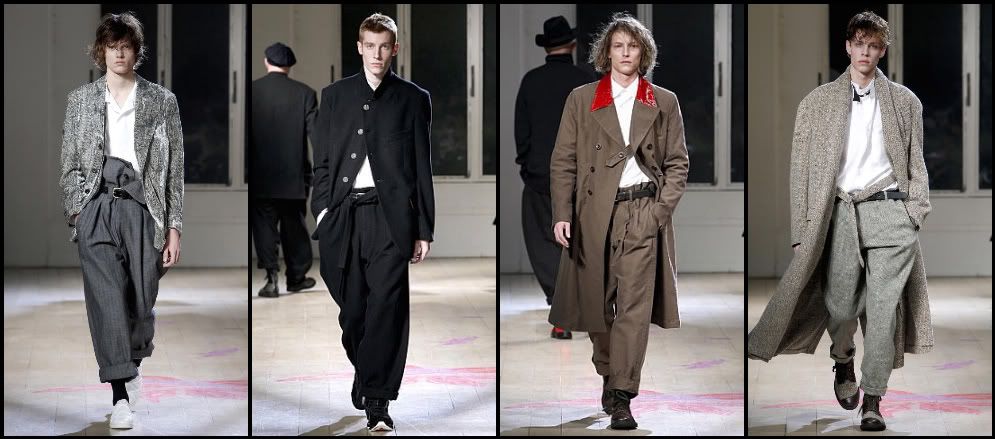 All from Yohji Yamamoto Fall 11/12, duh!
His clothes don't follow trends. Slouchy-ness / roomy cuts is always his aesthetics.
When I grow old (-er), I don't need any clothes other than Yohji's (yup we're on first name basis now). I'd like to rest in peace in them, in fact.
I know what you're thinking - Yohji's stuff will look like graduation robes on a midget like me, right?
all images from thefashionisto (he/she is the best source of menswear catwalk and editorial images, hands down.

PS: it's been a while since I do collages. Shite it takes forever, thank God I'm on leave now...