I admit, I skimp tremendously when it comes to buying furniture. To me what difference does it make whether solid mahogany or shoddy plywood in making the compartments of my wardrobe? All I need is basically a storage cabinet which can actually, err, store my personal items. Plus I'm always a big fan of recycling, from reusing hand-me-down chairs given by a cousin or still keeping that tatty rattan lounge chair in my room. This tendency is rather inherited - all thanks to my mother who obsessively recycles and reuses wonderfully crappy objects in the house.
That being said, probably most of you would have known how major
Maison Martin Margiela headquarter
in Paris is - purportedly all the furniture of the premise is vintage/ secondhand, reworked and all painted in white to give uniformity. And I was telling my inner cheapskate self "Get inspired by this, ya foolz"!
Trompe l'oeil effect doors at Margiela HQ
The dominantly white interior of the meeting room - anything but contrived.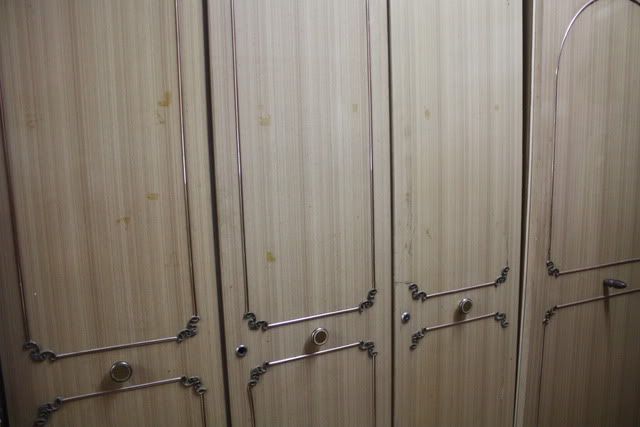 My version of wardrobe.
Thus I've attempted to give my wardrobe a new lease of life by spray-painting it white. The story behind the six-door cupboard with multiple compartments is a rather nostalgic one - my mother bought the set after her wedding (which was almost 30 years ago), and it continues to serve its function in my bedroom till this very day. The insides of the wardrobe have kept and hung different clothing items of various members of the house- from my father's regal military uniforms (yes, my pop was in the army) to my mother's delicate velvety tops. Today the wardrobe is used mainly to store my chaotic mishmash of outfits, which are not unusually non-cohesive in style.
The surface of the furniture is laminated with
Formica
, and I thought that that is a bit too tricky for ordinary wood paint to work on, thus my choice of spray-painting it.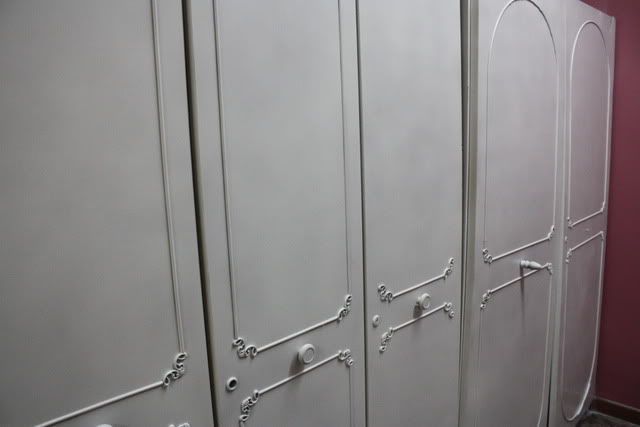 It took me 7 cans of white spray paint, 3 hours to complete, 2 numb thumbs from incessantly pressing the spray, and an angry father who was in his wrath after looking at the dust-covered floor (an expected by-product of spray paint)...
And did I tell you being in the military service has somehow turned him into an obsessive case for tidiness and cleanliness?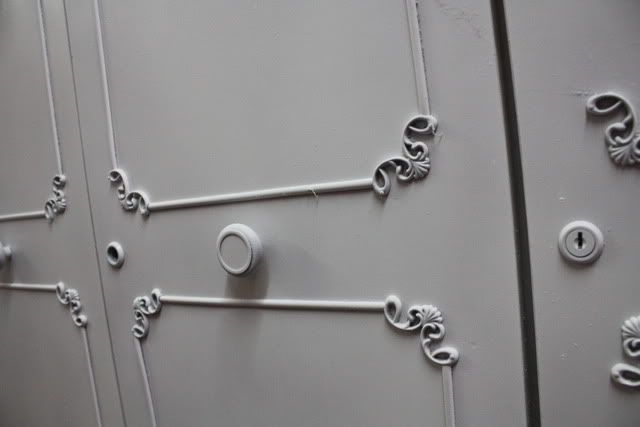 Painted white the details actually stans out more and admirably cute. Just look at the dainty curls, but not overly humongous to prevent it looking overly feminine. How I simply love OLD objects because of details like this!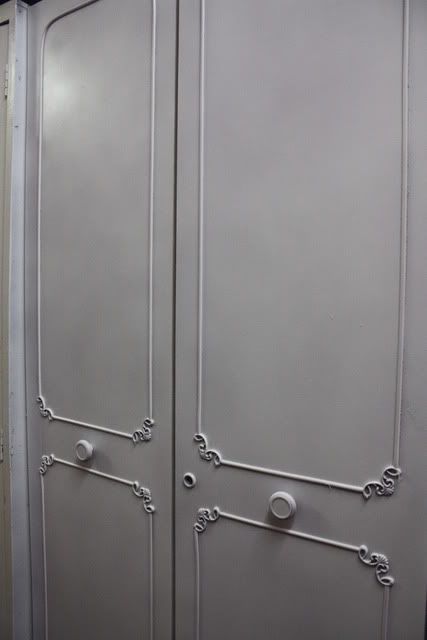 And now the converted wardrobe joins a similarly white-painted writing desk and chair on the other side of my room.
I must say I did not spend much moolah on this project. And I'm probably saying this in the most capitalistic tone ever - the cash that I've saved most likely will be channeled to more and more clothes!