I just realised how my wardrobe lacks of something with geometric prints. Most of the patterns that I own are of floral type (a fetishist behaviour since high school I'm afraid as I'm most likely sold to any thing with leaves/small flowers which makes me biased over any other sort of prints. Blaming this obsession over the ladies at my home who have countless batik Baju Kurung).
However I digress. Recently I have been in the hunt for different types of patterns. More geometry, less floral basically. Before I know it I discovered this polka dot t-shirt at an interesting shop called
Scooft
in
Sungei Wang Plaza
.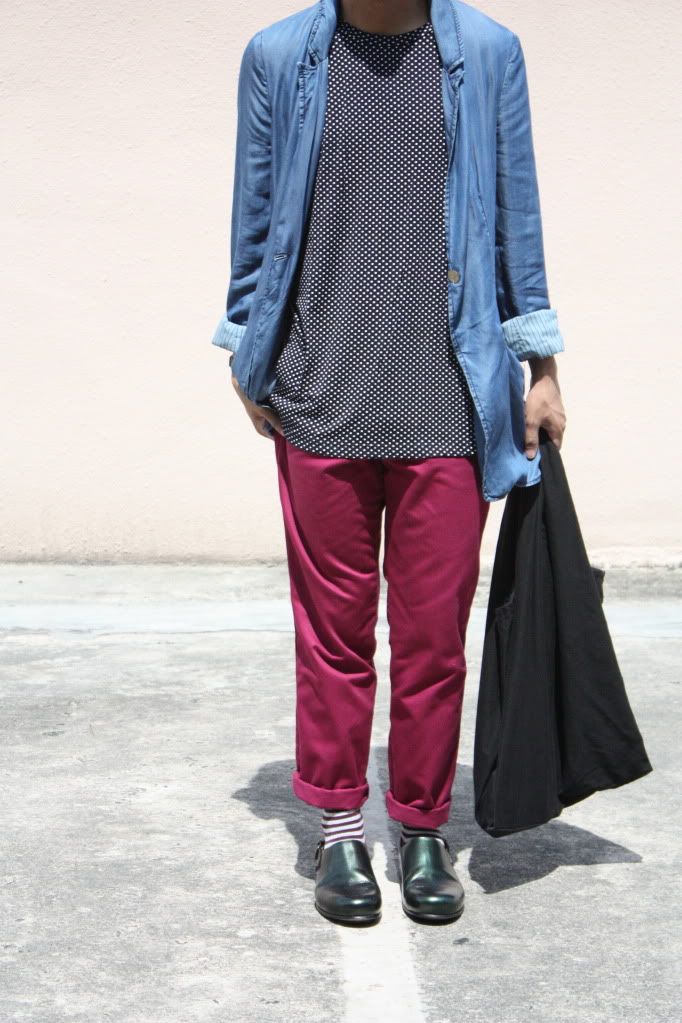 The geometry/ simple pattern theme resonates in the striped Muji socks. They are of ladies but even so still a tad big for me! Worn with ZARA blazer and tailored Uniqlo pants.
Forgive me for repeatedly basking in the Lanvin clogs glory but this time around I think the shoes finally had its justice under direct sunlight - the reflection is almost blinding I tells ya!
The streetwear combined with vintage mixed with new (and vintage-inspired) pieces at
Scooft
instantaneously attracted my attention. It's a 180-degree turn of what most shops in Sungei Wang has to offer. Seriously, at second glance the shop
looked very out of place
from the over-crowded, utterly trendy but cheap-looking neighbouring stores.
My style resolution this year is to add more polka dot or other geometry pattern to my weary and borderline geriatric wardrobe. Perhaps a little bit more polka dots from
BLACK Comme Des Garcons
line would not hurt?
And lastly doesn't the post title remid you of the 70's educational animation series The Polka Dot Door? (It was aired at Malaysian television in the 90's). The theme sing is soooo addictive!